This shop has been compensated by Collective Bias, Inc. and its advertiser, MARS Incorporated. All opinions and comments are 100% mine, I only promote products I believe in. #SpookySavings #BOOItForward #CollectiveBias
With Halloween next month that means it's time to get your BOO kits ready. Every year we try to BOO someone new, and it's so much more fun when they don't expect it. This year I decided to BOO my brother and his family.
If your not familiar with BOO kits, well the idea behind it is quite simple. At Halloween time you make a gift basket or kit for someone special. It could be family, friends, co-workers, neighbors, or even a favorite teacher. The idea is to surprise them with a fun filled gift, perfect for Halloween.
For my BOO kit I went with a Coffin and Graveyard theme. I filled it with some Halloween decor and lots & lots of MARS® candy. I topped it off with some balloons and a card to let them know they've been BOO'd.
Want to see how I made my BOO kit? Here's how:
Halloween Coffin Graveyard BOO Kit!

Step 1: Supplies! Gather all your supplies including:
The base, this could be a basket, bag, or even a wood coffin.
Decor, I love Halloween so I love throwing in some festive decor.
Candy! Lot's and lot's of candy! I always prefer MARS® candy especially their bulk bags from Sam's Club. I try to buy in bulk and save this time of year, and BOO'ing in bulk makes assembling your BOO kit much easier. Especially if you send out a bunch, so why not get all your BOO'ing essentials on a budget with these bulk bags.
Card & Balloons. Having a card lets them know they've been BOO'd, otherwise, a BOO balloon can also be a sign if they're familiar with BOO kits.

Step 2: Start assembling.
I took my wood coffin that I found at a craft store and filled it with some spider web mesh.
I added a couple of gravestone's.
I added a skeleton decor piece and then candy from my MARS® Mad Scientist bulk bag.
Finally, I added a card along with some balloons.
Ready to shop for some BOOtastic candy? Hover over the photo below to click through to SamsClub.com to purchase!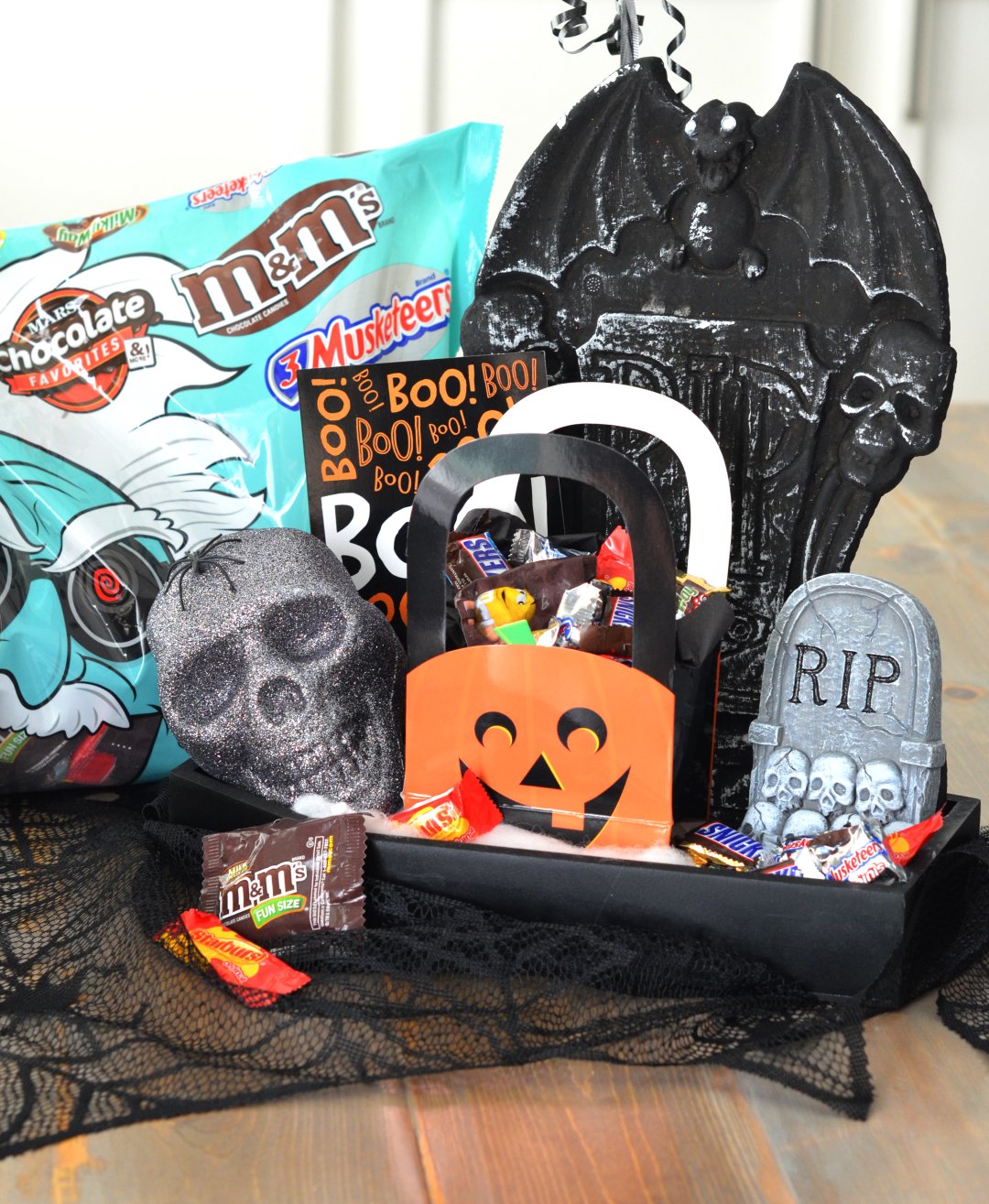 Next time your at your local Sam's Club look for 2 specially marked Halloween Designed Bags. The MARS® Bat Bag or the MARS® Mad Scientist bag of candy will be located in the candy or seasonal aisle. These packs come with a great variety of your favorite MARS® and Wrigley products, perfect for BOOing or upcoming trick-or-treating candy.
So who will you be BOOing this Halloween? Will it be a surprise?
Enjoy and Happy Halloween!
Save
Save
Save
Save
Save
Save
Save
Save
Save
Save
Save
Save
Save
Save
Save
Save
Save
Save
Save
Save
Save
Save
Save
Save
Save
Save
Save
Save
Save
Save
Save
Save
Save
Save
Save
Save
Save
Save
Save
Save
Save
Save
Save
Save
Save
Save
Save
Save
Save
Save
Save
Save
Save
Save
Save
Save