This shop has been compensated by Collective Bias, Inc. and its advertiser. All opinions and comments are 100% mine, I only promote products I believe in. #GiftingForBaby #CollectiveBias
Looking for the perfect baby shower that any expecting mother would love to receive? Well I have the perfect kit to make for your next baby shower, a Baby Bath time Kit! Having 2 kids myself, and receiving lots of unnecessary shower gifts, this Baby Bath time Kit is full of items any expecting mother will actually need.
For starters it includes these adorable Johnson & Johnson baby products with an exclusive design packaging that's only available at Target! The design is perfect for all sorts of gift baskets and I highly recommend Johnson & Johnson bath products.
I have incredibly sensitive skin and I didn't want to chance anything with my daughters, so I only use Johnson & Johnson bath products. Safety is their #1 Priority, you can read all about it HERE; but, their products are all Hypoallergenic.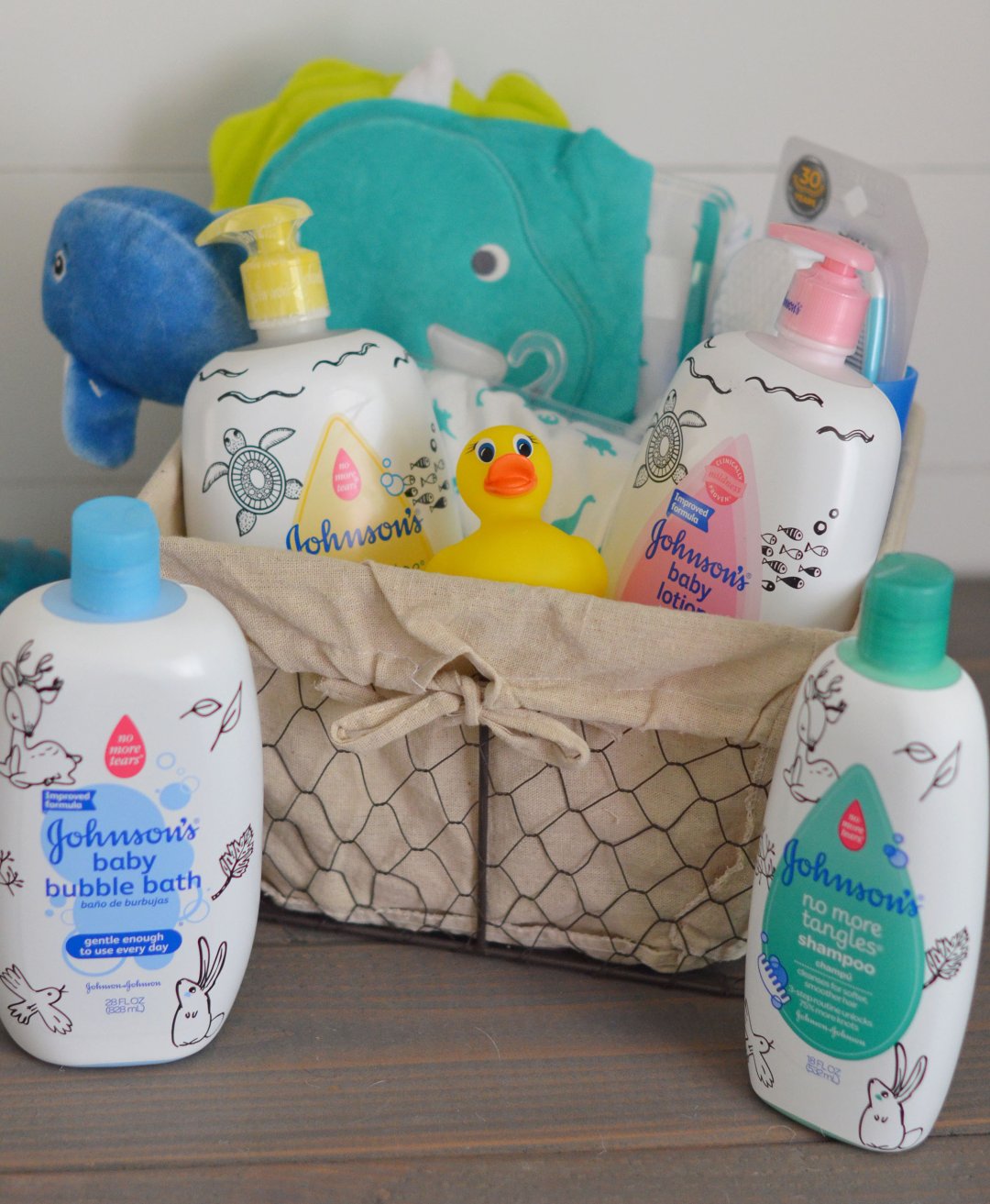 Want to shop these Johnson & Johnson bath products? Hover over the photo above to click through to Target.com and buy it!
For my Baby Bath time Kit I added only essentials. When I had my 1st daughter I registered for what seemed like everything but then received items that weren't even on the registry. More so, I received about 70% clothes and shoes and about 30% practical items. At the time I thought nothing of it, that was until I actually had my daughter. Now after having 2 girls I only buy essentials for baby showers.
So if you want to give a gift basket that they'll love and thoroughly use, here's how to make a Baby Bath time Kit:
Baby Bath time Kit Supplies:

Basket, bucket, bag, or even baby bathtub to store everything in.
Baby Towel & Washcloths.
Johnson & Johnson bath products. These are a must! I added Johnson's Head-to-Toe Wash, Johnson's Baby Lotion, Johnson's Baby Shampoo, and Johnson's Baby Bubble Bath.
Bath Shampoo & Soap Rinser.
Brush & Comb set.
Rubber Ducky, this particular one tells if the water is too hot on the bottom.
Throw everything together and you have the perfect bath time kit.
You can find these specialty design packaged Johnson & Johnson bath products at Target located on the end cap in the baby aisle. Remember these are exclusive to Target so if you want these cute designed bottles to complete your gift basket, you'll have to shop at Target.
Know of anyone having a baby this year? What's your favorite practical gift to give?
Enjoy!
Save
Save
Save
Save
Save
Save
Save
Save
Save
Save
Save
Save
Save
Save
Save
Save
Save
Save
Save
Save
Save
Save
Save
Save
Save
Save
Save
Save
Save
Save
Save
Save
Save
Save
Save
Save
Save
Save
Save
Save
Save
Save
Save
Save
Save
Save
Save
Save
Save
Save
Save
Save
Save
Save
Save
Save
Save
Save
Save
Save
Save
Save
Save
Save
Save
Save
Save
Save