This shop has been compensated by Collective Bias, Inc. and its advertiser. All opinions and comments are 100% mine, I only promote products I believe in. #ProtectFromPetMess #SeasonalSolutions #CollectiveBias
Do you or even someone you know about to get a puppy? If so, then you'll love this post on How to Create the Perfect Puppy Kit! As you may know we just got a new Silver Lab puppy, he's about 15 weeks now and he's definitely a typical puppy!
Don't let the cuteness fool you! He's getting into everything, chewing anything in sight, and trying to master potty training. I wish potty training would happen a little quicker, but one thing that has saved us is STAINMASTER®™ Carpet Pet Stain Remover!
We have rugs in every room and our pup for some reason thinks that's where he should do his business! STAINMASTER®™ Carpet Pet Stain Remover has become my new best friend. It works great and lifts away tough pet stains plus it eliminates odors, thanks to their powerful ODOR REMOVE™ technology. Nothing worse than a clean carpet yet it still smells.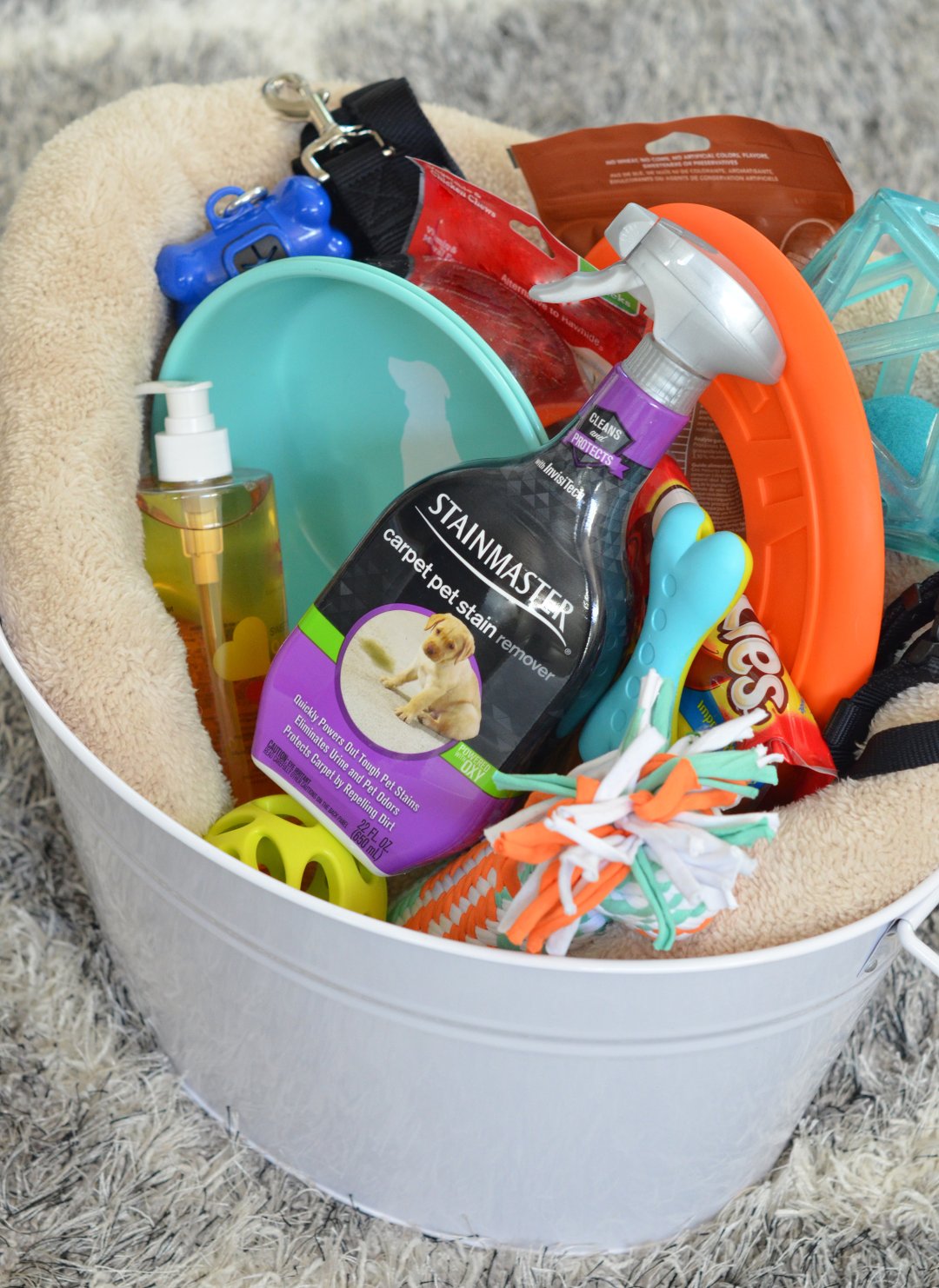 Interested in using STAINMASTER®™ Carpet Pet Stain Remover this fall season? Hover over the photo above to click through to Target.com and buy it!
STAINMASTER®™ Carpet Pet Stain Remover not only removes pet stains and eliminates odors, it also protects against future stains & repels dirt. That means no sticky residue left behind, however it does leaves behind an invisible shield to repel dirt to protect against re-soiling.
Here's a how to use it:
SPRAY: Spray product liberally and directly on affected areas.
WAIT: Wait 3-5 minutes to allow solution to penetrate the stain.
BLOT: Dampen the spot with water and blot with a clean, colorfast paper towel or cloth. Repeat as necessary to remove the stain. For best results treat stain immediately.
So ready to make the Perfect Puppy Kit? It will be the perfect gift for someone about to get a puppy, and I'll be making mine for my brother. They plan to get a new puppy in the next couple months.
How to Create the Perfect Puppy Kit!
Grab a basket, bucket, or bag to put everything in.
Add a pet bed. It's best if you know the size of the dog.
Add some bowls for food & water.
Add lot's of toys, it's always better to buy toys that are meant to be chewed on. I suggest to limit the stuffed toys.
Add a leash, collar, and pet waste bags.
Add puppy shampoo
Add treats, the more the better since training requires them.
Finally, the most important thing to add is STAINMASTER®™ Carpet Pet Stain Remover! It's an absolute must when you have a puppy and carpet. Believe me, they'll thank you for this.
After you gather your supplies, throw it all together and you'll have the perfect puppy kit any new dog owner will love.
You'll find STAINMASTER®™ Carpet Pet Stain Remover in the cleaning aisle at Target, and the rest you can pickup in their pet aisle.
Know of anyone getting a puppy any time soon? or have you ever made a puppy kit before?
Enjoy!
Save
Save
Save
Save
Save
Save
Save
Save
Save
Save
Save
Save
Save
Save
Save
Save
Save
Save
Save
Save
Save
Save
Save
Save
Save
Save
Save
Save
Save
Save
Save
Save
Save
Save
Save
Save
Save
Save
Save
Save
Save
Save
Save
Save
Save
Save
Save
Save
Save
Save
Save
Save
Save
Save
Save
Save
Save
Save
Save
Save
Save
Save